Recognition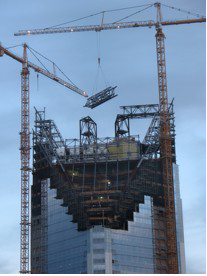 Pre-Planning Process
At Williams Erection Company, given the complexity of our projects, we many times receive recognition for the unique methods we utilize to successfully erect these projects. We also have received consecutive AISC Safety Excellence Awards for working a year without a loss time accident. We have also been awarded "Safest Contractor" awards on many projects.
Recent WEC Projects that have received recognition include the following:
Wachovia Tower Steel and Handlebar Truss
Emory University HSRB Bridge
McLeod ICU Hospital
RSA Judicial Building, Montgomery, AL
Georgia Tech Indoor Football Facility
Alexander Memorial Coliseum Rebuild
RSA Judicial Building
Williams Erection Company was challenged with erecting towers over an existing National Historical Registry Building in downtown Montgomery, AL. The challenge was that WEC could not touch the existing building, but needed to erect three 250-ton transfer trusses over the existing building. A new Judicial Building tower would then be erected with its foundation as the transfer trusses. Williams Erection Company worked with its consulting engineering firm to develop a unique erection method we called "Sky Hooks" that utilized two cantilever sections with jacking systems to hold the truss sections while under erection. The jacking systems allowed WEC to adjust the trusses to the correct elevations given the deflection that would occur during the erection. This erection method was recognized and written up in Modern Steel.